Best Home Remedies For Sore Throat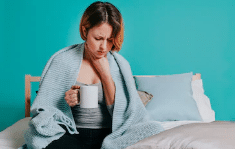 Are you the one who frequently effect to sore throat? If yes, say goodbye to it by backing some simple Sore throat home remedies. The foremost symptom that you face before sore throat is throat pain. It awkward much at night times making us to stay alive the whole night. How disgusting it is!If your body's immune system badly hit by viral or bacterial infections then it's turn of throat not to function properly. Have a glance at the sore throat remedies and try them out.
SALT Water Gargling:
To get rid of bacteria present in the throat, just gargle salt water for every three hours.
Take Garlic on regular basis:
You know well, garlic is an ingredient not only increase the taste of food item but also fights against bacteria present in mucus membrane.
Have a cup of tea with honey:
Just feel the aroma…A warm tea with honey instantly twist your mood as well as soothe your throat ache.
Sip hot chicken soup:
If you are not vegan then have a sip of chicken soup. It has the capability to clean your sore throat and cold.
Quit smoking:
Be in distance to smoke. It often dehydrates the throat causing as to endure uncomfy.
Drink Marshmallow root extract:
I think you are not well known about marshmallow plant roots that works well to cure sore throat.
Apple cider vinegar (ACV):
In case of having a deep sore throat consume ACV along with honey and water many times a day.
Drink Lemon water:
Lemon water which is easily available in our kitchen heals the highly infected throat. It also reduces the cough and cold quickly.
Bottom line:
Sore throat can be easily cured if you start treating it in the primary stage. Have lots of fluid content & use sprays to get swift relief.